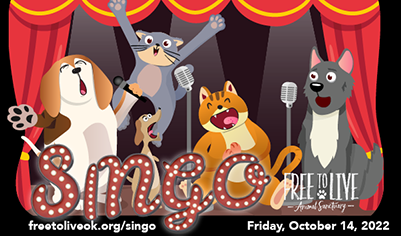 If you've ever played Bingo, then you are ready for Singo!
The Free to Live Auction you know and love has a fun addition this year – Singo! Playing with friends or on your own, listen to music from the decades and mark your cards, while also enjoying silent and live auction items, food and drink!
Each participant receives bingo cards for your table. The DJ announces the themes for each round and players will be marking cards based on decade or artist. Get the right line up? SINGO!
Nervous? Never heard of Singo? It's okay! You can still enjoy the auction and watch and listen to the fun. We will be talking Free to Live throughout the evening with plenty of opportunities to learn more about the place we all love!
Tickets are $100 per person. Reserved seating is available at the sponsorship levels listed below. Purchase Tickets Here.
Not able to attend, but would love to support the dogs and cats of Free to Live?
Give a gift online at freetoliveok.org/donate
6 p.m.
Friday, October 14, 2022
University of Central Oklahoma Nigh University Center Ballrooms
Grab a Fall 2022 Shirt or Sweatshirt
Enjoy Bidding on Silent Auction Items
BeFORE and After Golf Package
Includes an Edmond Golf Husky Golf Club Cover, Dinner for four at the Twisted Oak Tavern, Round of golf for four at the Greens Country Club
Pooch Pool Party
$50 Gift Card to Solos Park and Pub, two swim sessions at Water Bark Recreational Swimming, Life Vest
Sips and Sweets Basket
Two bags of Makana Hand Selected 100% Kona Coffee Beans, di Amore Amaretto, two ceramic pet themed mugs, Amaretto Coffee Recipe Card, Biscotti, Chocolate Covered Coffee Beans and Walker Shortbread Biscuits
One Debonair Dog Basket
23 x 36 Crate pad, Eat, Play, Love Toy basket, Reflective vest (L), 4 pack of Kong Toys, Lifeguard dog toy, Microfiber pet towel, 2 ceramic food/water bowls, 2 bandanas, leather leash, snack shop 4 pack of dog toys, dog treats, dog bed.
Pumpkin Spice & All Things Nice Trader Joes Everything Pumpkin Basket includes: Pumpkin bars, Pumpkin spice pretzels, cookies, Biscotti, pecan & pumpkin spice oatmeal, Howling Gourds Pumpkin ale, Pumpkin pancake mix, pumpkin butter, pumpkin bread/muffin mix, Pumpkin spice expresso, harvest tea blend, pumpkin spice batons and Rae Dunn Pumpkin Spice mug.

More baskets are included and other great adventure items like: Glass Blowing at Blue Sage Studios, A pet photography session with Lap of Luxury, Handmade Pottery, Personalized Pet Drawing by Artist Rene West, Handmade Quilt, Thunder Tickets and gift cards to restuarants and stores!
Live Auction Items
Detroit Electric Sparrow City Bike
The E-Sparrow is a Class 2 ebike driven by a 36V/250W Bafang hub motor and 280.8Wh Samsung lithium battery, providing pedal and throttle assist up to 17 mph. It's built on the same lightweight aluminum double-diamond frame as Detroit Bikes' non-electric Sparrow commuter model, designed with the help of veteran framebuilder Ben Serotta. While the frames are manufactured abroad to keep the price point down, the E-Sparrow is fully assembled at Detroit Bikes' factory.
One Week in Paciano:
A weeks lodging at the Lagovista Loft – one of the most beautiful lofts in all of Paciano. Paciano is the ideal destination for visitors looking for a base from which to explore the wonders of Umbria, the "Green Heart of Italy," as well as the charms of neighboring Tuscany. The perfect little Italian town is perched on the slopes of a hill overlooking the beautiful Lake Trasimeno. Paciano is situated perfectly amongst the many historical and interesting towns, villages and cities in the Umbrian and Tuscan regions. Just a short drive to the Chiusi train station (15 minute ride) and you are on your way.  Park your car, take the train to Florence, which is due North 1.5 hours and/or Rome which is due South 1.5 hours.  Either direction you choose, you are guaranteed a fabulous day. Expires 10/14/23. Learn more at https://lagovistaloft.com/loft
Expires 10/14/23. Availability arranged with owners.
Treat Yourself Night of Dining and Entertainment
Private Dining Experience for eight with the Hamilton Supperette & Lounge. Enjoy a night of fun and frivolity with a four-course dinner and wine pairing in your home. Also, that evening enjoy a private concert with members from Oklahoma's Favorite Rock Band – the Wise Guys – with an acoustic set (up to two hours) featuring Jeff Curran & Randy Colton. Learn more about your entertainment at thewiseguysband.com. Expires 10/14/2023. The date must be mutually agreed upon and not available on holidays. The restaurant will communicate ahead of the dinner likes & dislikes to create a custom menu for you and your guests.
Zonly Live Package:
Watch local artist Zonly paint live throughout dinner and have a chance to bid on his work during the live auction. Zonly developed his unique style as a pop expressionist artist and opened his own gallery, Studio Z, in downtown Edmond, OK. Operating out of Studio Z, he currently specializes in custom artwork, murals, sculptures, and live performance painting.
Thunder Vs. Kings Package:
Enjoy two front row tickets to the Feb. 8, 2023 Thunder vs. Kings game. Seats are Row A, Sec. 115, 15 and 16 with a parking pass. Also included in this package is an autographed Chris Paul basketball and a $200 gift card to Bob's Steak and Chop House inside the Omni Hotel in downtown Oklahoma City.
The J. Thomson Jewelers Getaway: Enjoy an 8-day and 7-night stay at one of Jeff and Tracey Thomson's personal 4-guest condos in the Dominican Republic or Punta Cana. The Dominican Republic Condo is 100 meters from the beach with ocean views from the second-floor balcony of Beach Residency. The second condo Rosa Hermosa is a first-floor unit with just a 10-minute walk to the beach and excellent views of the giant pool and garden full of palm trees. Also enjoy the personal touch of planning your trip with offers from owners to help arrange at your expense tours to Isla Saona Catamaran and Playa Macao, golf outings, horseback riding and transportation from the airport. Value $1,000. Expires Dec. 31, 2023. Check calendar availability at beachresidency.com and putacanacondo.net.
Thinking of You Package:
Say "thank you," "I love you" or "I'm sorry" with a bouquet each month for 12 months from Madeline's Flower Shop in Edmond paired with a case of wine to toast your friends. Value: 
Nepal Collection by Nourison Powerloomed Rug from Moorman's Carpets & Rugs:
Powerloomed Rug from the Nepal Collection by Nourison 5'3" x 7'5" in a Bengal Pattern.
Night on the City Package:
One-night stay at Oklahoma City's premiere Ellison Hotel with breakfast the next morning for two at Milo's, a $50 gift certificate to Top Golf, a $50 gift certificate to Paseo Grill and make sure your pup is taken care of for the night with two-nights of lodging and a bath at Stay Kennels. Expires 10/14/23.
Date Night in the City Package:
One-night stay at Oklahoma City's premiere Ellison Hotel with breakfast the next morning for two at Milo's, a wheel-throwing pottery class for two at House of Clay, a $50 Gift Certificate to Paseo Grill, and make sure your pup is taken care of for the night with two-nights of lodging and a bath at Stay Kennels. Expires 10/14/2023.
Ticket/Sponsorship Opportunities
One Cool Cat
Individual Ticket
One House Cat
Bid from Home
Bid in the silent auction from the comfort of your home. Won items can be picked up the following week from Free to Live.
Buff Beagle
Sponsorship Level
Reserved Seating for (10) with premier status and distinction

20 Free Drink Tickets

Unlimited Fast Passes for the Bar

First Passes for Food Options
Meowin' Morrie
Sponsorship Level
Reserved Seating for (10) with named table sponsorship

10 Free Drink Tickets

20 Fast Passes for the Bar
Howlin' Husky
Sponsorship Level
All Business Bernese
Small Business Sponsorship
Small Business Sponsorship Recognition on social media

(1) Ticket